How to Sew Fabric Candy Corn for Your Harvest Decorating – Free Autumn Sewing Project Tutorial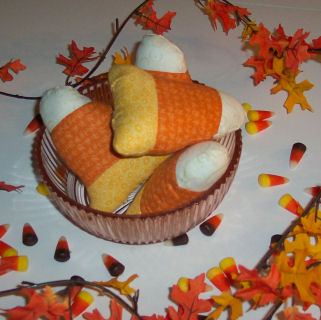 These adorable fabric candy corns will look great anywhere in your home during the Autumn season! Looking for a more "Primitive or Rustic Look" in your candy corns? Buy darker fabrics. Try a rust print for the orange, dark cream for the white, and a golden rod color fabric for the yellow! You don't need much fabric to make these sweet fall crafts. Fall color fat quarters or scraps of fabric will do fine! They're sew easy to make. After all, for Halloween and Fall, It's all about the candy!… (corn).
You Will Need:
Small pieces of autumn fabric (orange, yellow & cream)

Basic sewing supplies
Let's Make These Classic Candies!
First you will need a pattern for your candy corns. You are more than welcome to copy and paste the photo to the left. You will have to enlarge it before you print it. This pattern was drawn on a 8 1/2″ X 11″ piece of paper.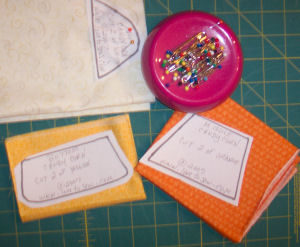 Once you have your pattern printed, cut out the 3 pieces. Pin the pattern pieces to the correct color fabric and cut them out. You will need two of each piece of color fabric to make one candy corn.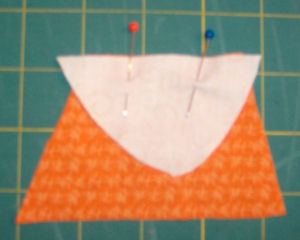 First we are going to make the front of the candy corn.
Pin one of the white tops to one of the orange middle pieces PRETTY SIDES TOGETHER.
Stitch using 1/4″ seam or your pressure foot as your guide.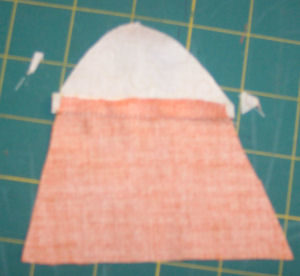 Trim the little white corners that hang out.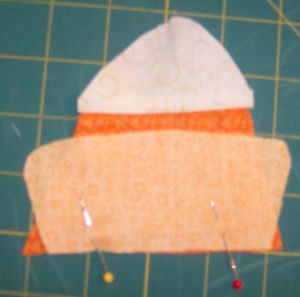 Pin one of the yellow bottom pieces to the orange middle section that you just sewed PRETTY SIDES TOGETHER.
Stitch using 1/4″ seam or your pressure foot as your guide.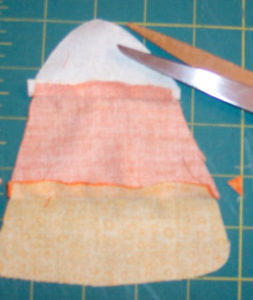 Clip the little orange triangles.
Repeat the steps to make the back of your candy corn the same way you made the front.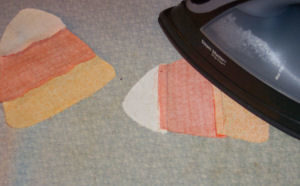 Press the seams of the back and front of your candy corn so they lie flat.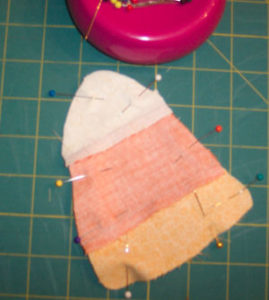 Pin the front and back of your candy corn PRETTY SIDES TOGETHER.
Leave an opening at the bottom for turning and stuffing.
Stitch around your candy corn 1/4″ making sure you leave an opening at the bottom.
Turn your candy corn pretty side out.
Stuff your candy corn with fiber fill.
Hand stitch the bottom opening closed.
That's one candy corn done. Repeat the process until you have enough candy corns to fill up your bowl!
Great job! In just some time, your house will be so full of these sickeningly sweet candies that even you may be a bit sour stomached!