Rustic Country Primitive Pumpkins – Free Halloween Craft Sewing Tutorial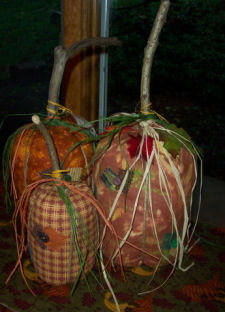 Now you can make my number one selling craft item of all time! In the 20 years of selling my handmade holiday crafts, these quick and easy to sew pumpkins were the hottest item. Nobody just buys one! I made them in many different sizes.
You Will Need:
Autumn cotton fabrics

Natural raffia

Sticks from tree branches

Scraps of fabric for patches

Fall embellishments like buttons and leaves

Craft stuffing or fiberfill

Beans, rice, sand, or stuffing beads or pellets

Basic sewing supplies
Now Let's Craft These Perfect Pumpkins!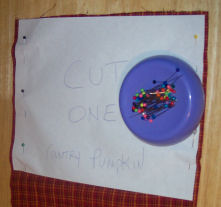 These handmade fabric pumpkins can be made in any size. The sample shown here is the small pumpkin.
We are going to make a small one. First you will need to make your pattern for the pumpkin. You will be using an 8 1/2″ X 11 1/2″ size piece of computer paper. Write on it "Country Pumpkin", "Cut One". There… you have your first country pumpkin pattern. Now pin the pattern piece to one layer of fall fabric. Cut it out. If you want to make a bigger pumpkin then fold your fabric in half and pin one long side on the fold of the fabric and cut it out. (Do not cut the fold line.)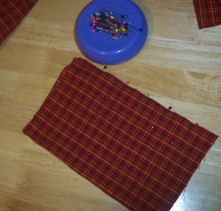 Pin the short sides of your pumpkin piece PRETTY SIDES together. Stitch down the seam using the pressure foot as your guide.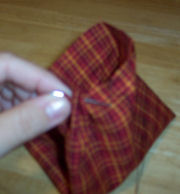 Hand stitch the bottom closed.
Optional: (I usually put a dab of hot glue at the bottom where I stitched on the bottom inside of the pumpkin so that no stuffing or rice will get through my hand stitching.)
Turn your pumpkin to the pretty side. Fill it 1/3 of the way with rice, beans, or sand.
This helps your pumpkin to stand up nice.
Fill the rest of the pumpkin up with stuffing.
Hand stitch the top opening closed. As you are doing this put your stick you are going to use as your handle in the hole. Now you can finish hand stitching it, and knot it good and tight.
Optional: At this point you can add jute rope to your pumpkin as seen in the last photo on this page.
Hot glue the leaves and raffia to the stick.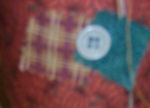 Hot glue or hand sew on scraps of fabric and buttons.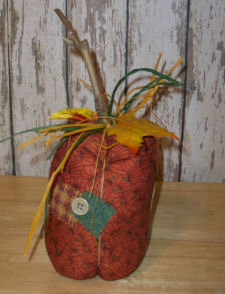 Your adorable handmade country fabric pumpkin is done.
Congratulations! You now have a pleasant pumpkin decoration to bring the season's feeling to all corners of your house! 
But that's not all! If you want more of the season's staples in your house, check out these tutorials on How to Make a Primitive Raggedy Pumpkin and How to Make Tapestry Pumpkins (hyperlink here)