SEWING CLASSES:
MOMMY & ME SEWING COURSE 6.0 Hours (three 2-hour classes)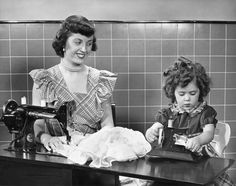 Spend some quality time with your child doing something creative,… learn to sew! Okay, so it may not be like the black and white photo to the left where in the 1950s every mom taught their child how to sew at home, but you both will have fun learning the life long skill of sewing here at Love to Sew Studio. During this course mom and child will make some fun projects together. You and your sweetie (age 8-17) will learn basic sewing skills and make some creative projects to take home.
YOU WILL MAKE: Together, you and your child will make a drawstring bag, this is to hold your sewing goodies and supplies in. Next, you will make a memorable 9-patch pillow, mom makes one side and the child makes the other, or you can make matching easy-to-sew skirts.
YOU WILL LEARN: Many new sewing skills like sewing machine basics, tools and terminology, many different kinds of stitches and seam finishes, how to work with different kinds of fabrics, preparing your fabric, pinning patterns, and more.
COST: $325.00 for the 6 hour course which includes all fabric and supplies.
COURSE DURATION: Three 2.0 hour classes. 
PREREQUISITE: None, we start you from your very first stitch!
SCHEDULE: We work around your schedule! Call or email us for a time slot that fits your schedule. 
AVAILABILITY: See Our Calendar
Once you have completed the first 6.0 hour course covering the basics of sewing, you and your child may sign up for as many 6.0 hour courses as you would like, depending on the projects and/or skills you would like to learn and advance to. 
Please read our studio policies page here:
Here are some projects some of our Mommy  & Me students have made: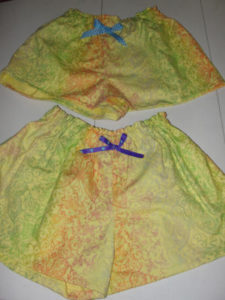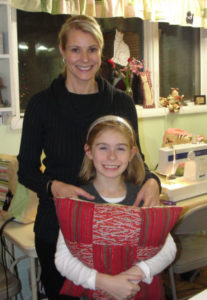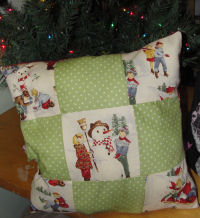 .