Judi Montgomery Harris, STUDIO DIRECTOR and OWNER

Judi Harris has been teaching sewing and design for over seventeen years. Previously, she created and marketed seasonal crafts, quilts, and kits that have been sold throughout the US, Australia, and Europe. A self-made entrepreneur, Judi started Love to Sew Studio as a small, word-of-mouth summer sewing camp in 2001 in hopes of sharing her knowledge and love for the art with the next generation. Since then, her studio has grown to include daily year-long classes, fashions shows, charity events, and sewing marathons. She has taught students in the thousands, some of whom have grown and left for college to study fashion.

In 2002, Judi decided to start a website as a hobby to further share her craft, which quickly evolved into the well-ranked thousand page information site, lovetosew.com. She has been published in magazines Sew News, Sew Simple, Irish Quilting, and Mom's, as well as received multiple newspaper coverage for various charity events and quilting and fashion shows she has hosted. She has a certificate in Dress Making and Design from Thomson Education, and one in Sewing & Dress Making from Stratford Institute.

Emily Bennison, INSTRUCTOR

Emily has been sewing at Love To Sew Studio since she was 10 years old. Emily is currently studying fashion design at Drexel University. While at Love to Sew, Emily participated in our annual fashion shows, and has won 'Best Collection', 'Most Creative', and 'Most Innovative'. Along with competing in our fashion show, Emily has also competed in Crayola's 2015 Wrapped in Color Fashion Show, where she won the entire competition and won an internship with project runway contestant Carol Hannah. Emily also competed to be a part of Project Runway Junior Season One! Emily was able to make it through countless phone and Skype interviews and was able to meet with and to be critiqued by Dmitry Sholokhov, Project Runway winner, and Sonjia Williams, another project runway contestant. Emily is excited to continue her fashion career at Drexel.

Sarah Moran, Junior INSTRUCTOR

Sarah has been sewing at Love to Sew Studio for 9 years. She started with mommy and me sewing classes when she was 8 years old and hasn't stopped since. She has been in every annual fashion show since Mrs. Harris has started them! She loves fashion and is more into garment making than crafting, but overall, just loves sewing in general. Sarah's biggest design accomplishment to date is her junior prom gown. You can see the making of the gown here. After high school Sarah plans to go to college for fashion design, preferably in New York. She is so happy to be an instructor after having been a student for so long!

Olivia Cross, Social Media Director, Junior INSTRUCTOR

Molly Bradley, Junior INSTRUCTOR

Molly, a Disney fanatic, has been a student at Love to Sew Studio since she was in eighth grade. Now, going into her senior year, she has become an instructor as well as a student! Molly's passion for Disney shows through her sewing and costume design. She created Disney inspired outfits, and even a "Haunted Mansion" costume that placed 2nd at the fashion show in 2015. You can see her "Dark Side of Disney" looks here. Creating costumes that look like they just came off the movie screen, Molly's attention to detail in her projects show that she is a dedicated seamstress. After high school Molly plans to attend University of Central Florida to study hospitality management and work for Disney.

Zoe Klingenberg, INSTRUCTOR

Zoe has been a student at Love to Sew Studio since fourth grade. Now in her second year of college, Zoe will teach her third year of Summer Sewing Camps starting June 2016. Zoe has competed in every fashion show Love to Sew Studio has held, showing her taste in and exquisite attention to detail in her original collections. She is a photography hobbiest and frequently volunteers for the local community. Zoe attends University of Pitt and is studying to be a Nurse Practitioner.

Shannon White, INSTRUCTOR, WEBSITE PHOTOGRAPHER

Shannon has been sewing at Love To Sew Studio since she was 7 years old and in first grade. She is studying fashion at Parson School of Design in New York City. Shannon has been a instructor at Love To Sew Studio since August of 2015. She has competed in every fashion show that Love to Sew Studio has held, and won "best construction" three times. Shannon is interested in fashion design, photography, and traveling.

Jessica Harris Pierce, Director and Owner of our Sister School – Studio Decatur

Jessica was an instructor at Love to Sew Studio for seven years. Currently, she lives in Atlanta, GA, where she runs Love to Sew's sister studio, Studio Decatur. She holds a BA in English Literature from Adelphi University and finds inspiration for her designs in novels and fairytales. She enjoys historic costuming, midcentury modern fashion, and expanding her handmade wardrobe of 1920s – 1950s-style clothing. In 2010, she participated in the Fashion and Fiction Conference held at Drexel University, speaking on Neo-Victorian Fashion. Jessica returns each September to assist as the coordinator of our annual fashion show.

Alexandra Abram, INSTRUCTOR, FASHION SHOW JUDGE

Alexandra enjoys challenging herself with sewing projects, and is always looking to perfect her execution and increase the difficulty of her projects. She has been a competitor here at Love to Sew studio in our Project RUNWAY camp and has won numerous challenges. Currently, Alexandra is studying at Pittsburgh University, where she enjoys rugby and musical theater. Alexandra loves costuming, and has helped costume stage productions as well as personal commissions. In 2012, Alexandra planned and ran a free art camp for disadvantaged children, for which she earned her Gold Scout Gold Award, the highest level of achievement in scouting.

Jamie DiMaio, FASHION SHOW COORDINATOR, former INSTRUCTOR

Jamie began sewing at age 9. She loved to work with the little ones, especially if they sang while they sewed! Along with performing in musicals in the tri-state area, she has been on the costume committee at several theatre companies. Jamie is a big contributor in our annual fashion shows by helping back stage, handling the music, and performing during intermission.

Jamie graduated from college with a degree in small business management and hopes to open her own performing arts center. She worked for Radio DISNEY with the Philadelphia road crew and has appeared in nearly 25 musicals, competed in various events including "America's Got Talent," "Delco Idol," and the Gospel Music Associations Music in the Rockies Festival. She also appeared and was one of the top five finalist on the talent-based reality-TV program "Triple Threat."

Jacqueline Harris, FASHION SHOW COORDINATOR, former INSTRUCTOR

Jacqueline began sewing at age 9. She enjoys making household items for herself, family, and friends, and particularly enjoys crafting and quilting. While teaching at Love to Sew, Jacqueline loved to work with our younger students. She graduated from Penn State and holds a degree in Human Family Development. Jacqueline is also a full-time nanny and loves working with children. At Love to Sew's Studio annual Fashion Show, Jacqueline acts as the back-stage coordinator, calculating scores, communicating between the judges and the hosts, and more.

Andrew DiMaio, GRAPHIC DESIGNER, PHOTOGRAPHER

Andy DiMaio is both a scientist and an artist, and his two jobs as a chemist and a professional photographer display his range. Andy has designed logos and artwork for Love to Sew Studio's website and print magazine advertisements. He's also been the featured photographer of the annual September Fashion show for several years now, capturing fantastic shots of even the shyest models! If you need someone to photograph that special event, he's your man! Here is his portfolio.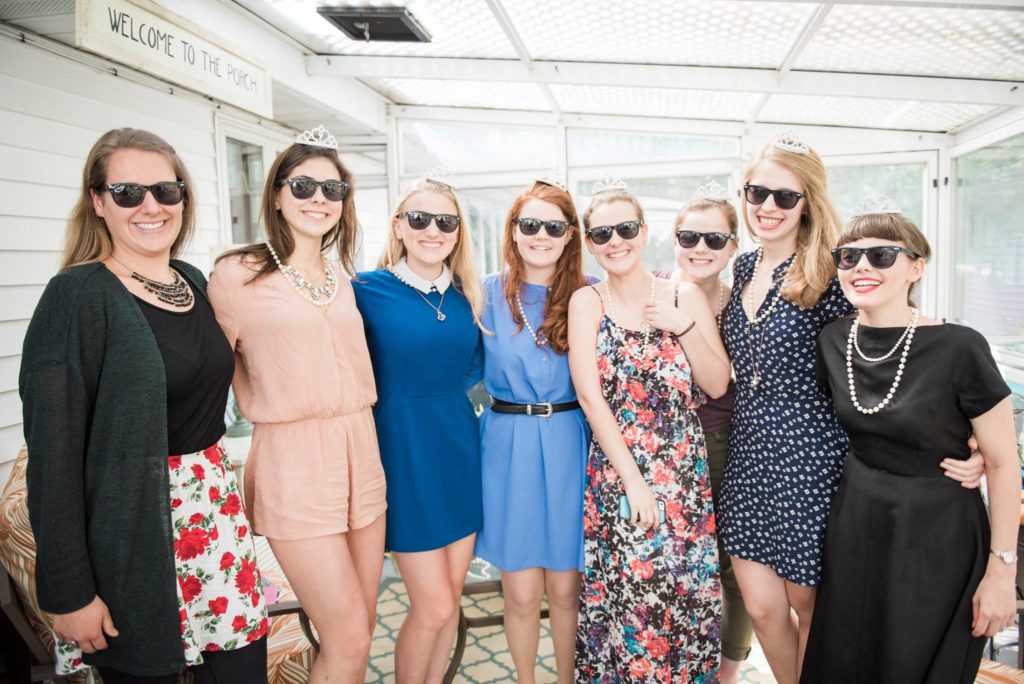 Some of our instructors at Jessica's "Audrey Hepburn Bridal Tea Party!"