Love to Sew Studio offers three different sewing workshops to fit your troops needs and budget. All three workshops cover enough material for your troop to earn their sewing badge. We do not supply the actual troop sewing badges. (That needs to be ordered through a troop leader.)
Each workshop is a 3-hour class where the girls will complete either a super cool long strap lined bag, a 9-patch pillow, or a ribbon pillow. First there will be a short lesson learning the basics of the sewing machine, followed by a designing session. Then they will sew up and embellish their sewing project using the machine.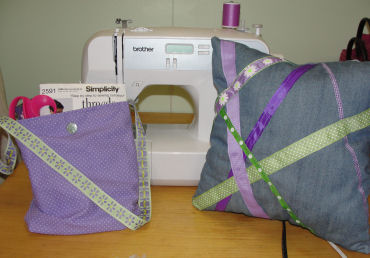 Each workshop includes everything you need to make your project, just bring a smile!
use of the studio and machines

instructor coverage

fabric

thread

ribbon

craft stuffing

a sewing ribbon award for each student
Pricing per Troop:
$100.00 non-refundable workshop fee – due 5 days after workshop date is confirmed; cover supplies, fabric, and instructor coverage

$20.00 per student – due upon arrival the day of workshop
Schedule:
Please call or email us to set up a date and time for your workshop 610.563.8633 or lovetosew.com@comcast.net .  We can host up to 6 scouts at a time.  Larger troops may need to come in two sessions. Available most Saturdays and Sundays between the hours of 10a-4p.