How to make an Appliqué Halloween Character Quilt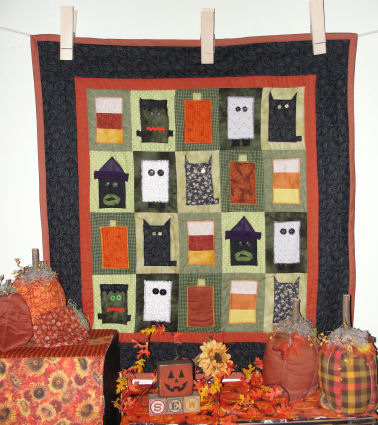 I saw a Halloween quilt similar to this in the corner of a magazine. It was too complicated for me to figure out the exact blocking to make each character, so I decided to make my own Halloween characters and just zigzag appliqué them on. So, this is my version of a Halloween character quilt! ENJOY.
You Will Need:
Five different color green fabric (about 1/3 yard ea.)

Scraps of black, orange, yellow, and white fabrics

Cotton batting

Fabric for back of quilt

Quilters double fold extra wide bias tape for the quilt binding
Let's Begin This Quaint Quilt!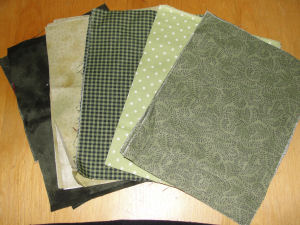 For this project you will need: four squares of five different color green fabric each.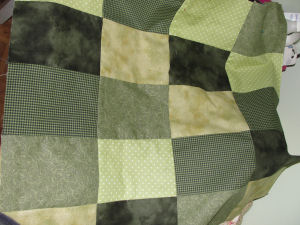 Begin by sewing two green pieces pretty sides together. Continue until a row of five squares are sewn together.
Once the rows are sewn, begin sewing the rows together matching seams until all 4 rows are sewn together to form a quilt top as shown in the photo.
Cut the orange fabric into 2″ strips.
Pin one long side pretty sides together.
Once both long sides are done, add the strips to the short sides.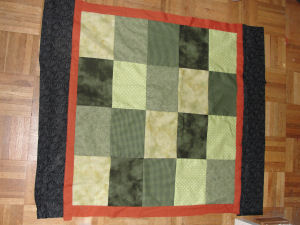 Add the 4″ black strips in the same manner.
Cut and place your Halloween ghosts, cats, pumpkins, candy corns, witches, and Frankenstein.
Zigzag stitch around the edge of the Halloween characters.
Sew seam binding and/or rick-rack for mouths. Hand sew buttons on for eyes.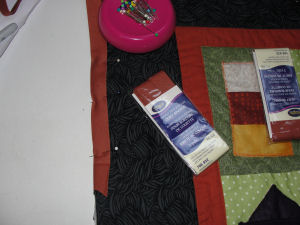 To finish up the quilt we will be using extra wide quilt batting.
Sandwich the edge of the quilt in between the binding and stitch along the edge of the quilt binding.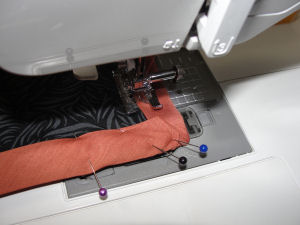 Fold the corners as shown in the photo.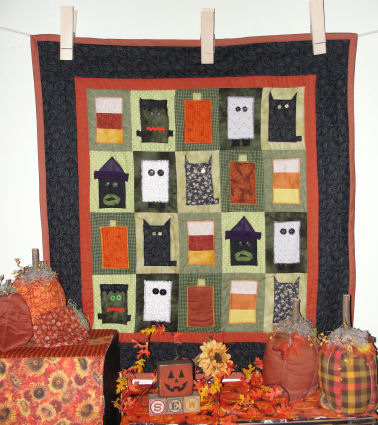 To "quilt" the Halloween quilt, straight stitch around every Halloween character, green square, and border using the "stitch in the ditch" method.
Congratulations! You've now made a wonder Halloween character quilt!