How to Make a Candy Corn Pillow from Tapestry & Upholstery Sample Fabrics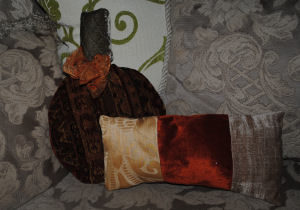 All you need is some upholstery fabric samples to make this elegant decorative candy corn fabric pillow. (Most fabric stores will give you samples for free once the fabric is no longer in stock at their stores… just ask. Regular cotton fabric can be used also.)
You Will Need:
Two 7″x6″ pieces of orange fabric, yellow fabric, and white or cream fabric

Craft stuffing or fiberfill

Basic sewing supplies
Let's Make This Plush Pillow!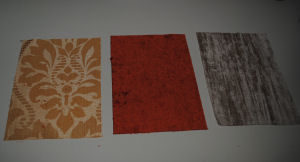 Place the fabrics on a flat surface the way you want your candy corn pillow to look. (Some people have candy corn with orange at the bottom, I am doing mine with yellow at the bottom.)
Pin together the 7″ side of ONE cream or white fabric to ONE 7″ side of orange fabric PRETTY SIDES together.
Stitch using the pressure foot as your guide. Open out fabrics and press seam.
Do the same to the yellow piece of fabric by pinning it to the other side of the orange piece. Stitch. One side of the pillow is done.
Do the same to the other three pieces of fabric to make the other side of your pillow.
Place the front and back of pillow pretty sides together matching seams and pin. Leave a 4″ opening on one side for turning and stuffing.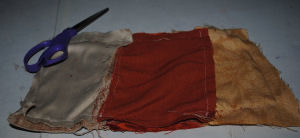 Stitch around the outside of the pillow using the pressure foot as your guide. Leave a 4″ opening at one side for turning.
Trim seams and clip corners if needed. Turn pillow pretty side out and gently poke out corners.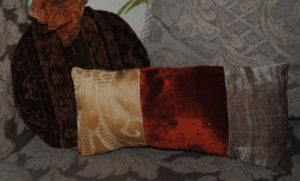 Stuff your pillow and hand stitch the opening closed. Enjoy displaying your candy corn pillow for the autumn holidays.
You can also make the pumpkin pillow shown here from sample sheets of upholstery fabrics!
Great Job! You've made a beautiful pillow to adorn your house with during the Halloween season!