How to make a Fabric Candy Corn Candle Ring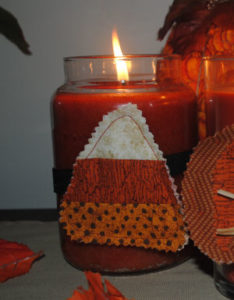 With a little bit of time and little bits of left-over fabric scraps from your fall crafting and fall quilting projects, you can make this candy corn candle ring to wrap around your favorite fall scented candles in no time at all!
You Will Need:
1/2″ black elastic

Small pieces of autumn fabric (orange, gold, & cream)

6″ square piece of quilt batting (warm & natural is our favorite)

Basic sewing supplies
Let's Begin This Creative Candle Ring!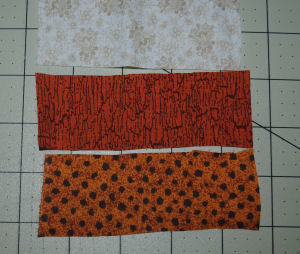 You will be using a 1/4″ seam allowance (the pressure foot as your guide) for this craft project.
From orange, gold, and cream fabric cut two pieces of each color fabric measuring 4.5″ x 1.75″.
Arrange the fabric in the order you want the candy corn to be.
(Some prefer orange at the bottom and others prefer gold at the bottom.)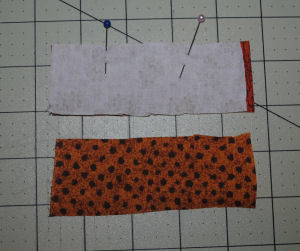 Pin the top and middle fabrics PRETTY SIDES together.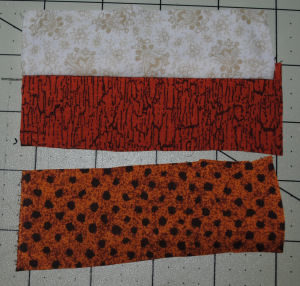 Stitch.
Sew the bottom and middle fabrics together in the same manner.
Now repeat the steps so that you have two sets of the three colors sewn together. (One for the front and one for the back of the candy corn.)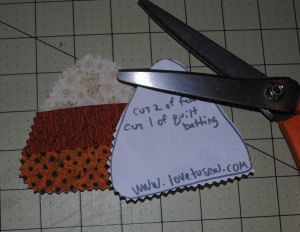 Here is our Candy Corn Pattern:
From our pattern cut out two candy corn pieces using pinking shears. We are using pinking shears to keep your fabric from fraying.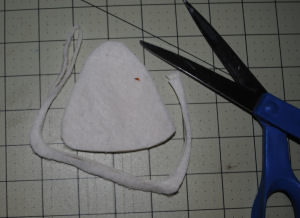 Using regular scissors cut out one layer of quilt batting. Once it is cut out trim around the entire candy corn to make it smaller.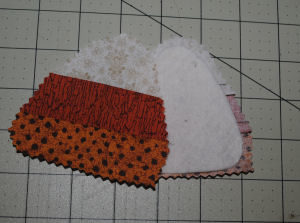 Sandwich the quilt batting between the two candy corn fabric pieces as shown.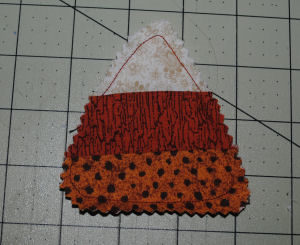 Stitch all the way around the candy corn going through all layers of fabric.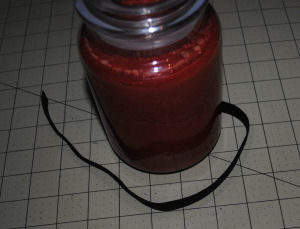 Measure around the candle jar and cut the elastic. If you are using a large Yankee Candle jar like I did, I cut my elastic 12.5″.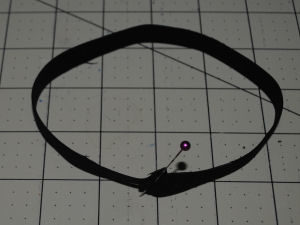 Overlap the elastic by 1″. Pin. Stitch in place.
Attach the elastic to the back of the candy corn and stitch in place.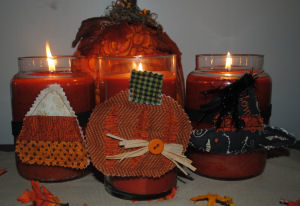 Wrap your candy corn candle ring around your favorite fall scented candle. (My favorite is Yankee Candle's "Autumn Leaves" scent!)
Congratulations! You made a lovely candle ring!
See Our Other Mini Softie Candle Rings to Make:
Country Pumpkin Candle Ring
Lil' Witch Hat Candle Ring