How to make a Primitive Ghosts Couple from Quilt Batting: Abigail & Barnabas Prim Ghost Couple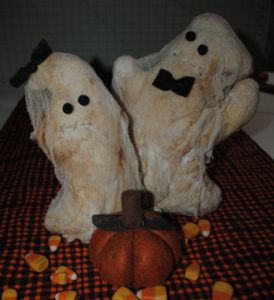 This charming ghost couple is made to look a little bit scary and old, as if they have come up right from the grave yard. But having Walt Disney World's "Haunted Mansion" ghost ride in mind while I was creating these, I wanted their appearance to be cute as well. So I embellished them with big eyes and a black hair bow for Abigail the smaller ghost, and a black bow tie for Barnabas the ghost who has his arms up to scare people! These friendly ghosts are coffee stained to look old and baked in the oven for a quick dry. Add a little pumpkin to the standing ghost couple and you have yourself a nice Halloween center-piece.
You Will Need:
Quilt batting (warm & natural is our favorite)
Cheesecloth
Black felt
Tan embroidery floss
Instant coffee for staining
Beans, rice, sand, or stuffing beads or pellets
Craft stuffing or fiberfill
Basic sewing supplies
Let's Begin These Gorgeous Ghosts!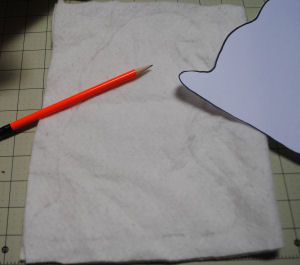 Place quilt batting pieces pretty sides together.
Trace ghost onto quilt batting. Mark a 4″ opening on the side of the ghost as an area not to sew. This will be the opening for turning and stuffing.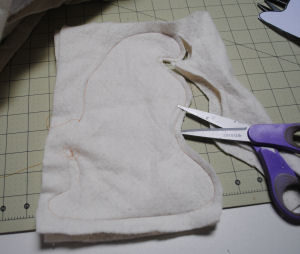 Sew on the line around the ghost leaving the 4″ opening on the one side. Trim around the ghost 1/4″ as shown.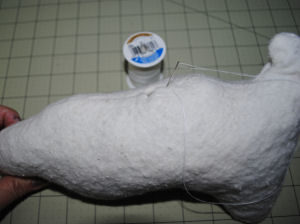 Turn ghost pretty side out. Fill bottom with beans, rice, sand, or craft pellets.
Hand sew the opening closed.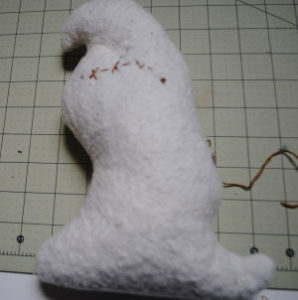 With tan embroidery thread, sew a mouth and nose if desired. You can sew a straight line, x's or _ _ _ dotted lines, or combine some like I did.
Make the other ghost in the same manner.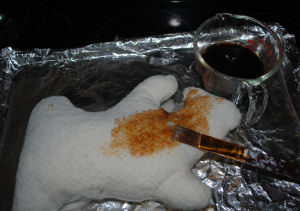 You can leave your ghost as is or make them look old and primitive. To do so combine 1/4 cup of instant coffee with a teaspoon of cinnamon and 1 cup of warm water. Mix, and paint on ghost all around.
It is okay if your painting is uneven, this is the primitive look you want to accomplish.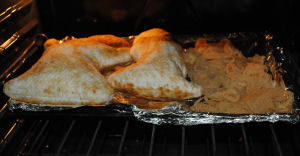 Cut a piece of cheesecloth long enough to fit over ghost front and back. Do the same for the other ghost.
Dip the cheesecloth in the mixture. Ring out excess stain mixture and set the cheesecloth pieces and the ghost on a cookie sheet with foil.
Bake at 170 degrees for a few minutes. Keep an eye on the ghosts and cheesecloth so they do not burn. Take out of oven when ghost are dry.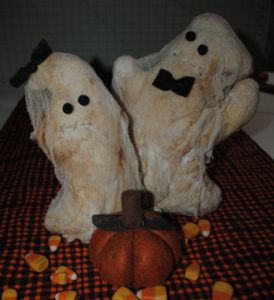 Drape the cheesecloth over each ghost. Hot glue a black hair bow, bow tie, and eyes on each ghost.
Your handmade primitive friendly ghosts, Abigail & Barnabas are done and are ready to greet your guest this Halloween!
Congratulations! You've made a wonderful couple of ghosts!