How to Make a Felt Candy Corn Mini Treat Bag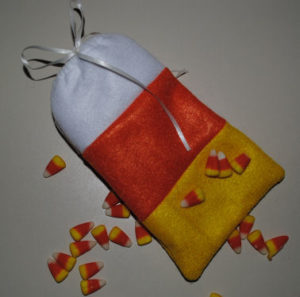 If you're looking for a cute little bag to put a few treats in, is perfect to place little Halloween treats in. It's super easy to make and has a drawstring closure!
You Will Need:
Two 3″x6″ pieces of orange felt

Two 3″x6″ pieces of white felt

Two 3″x6″ pieces of yellow felt

Ribbon

Basic sewing supplies
Let's Begin This Beautiful Bag!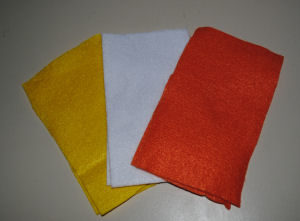 Cut two pieces of each color felt 3″x6″.
Pin one orange and one yellow piece down the 6″ side. Stitch using the pressure foot as your guide.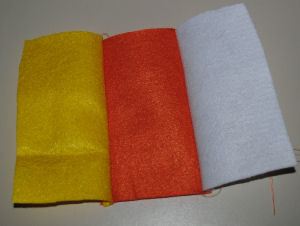 Then stitch the white piece of felt to the other side of the orange.
Do the same to the other 3 pieces of felt.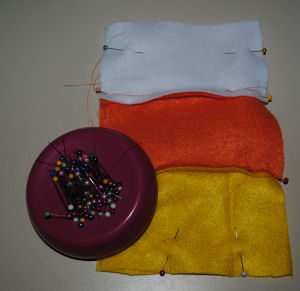 Place the candy corn felts pretty side together and pin around the sides and bottom.
Stitch in place. Do not sew across the white at the top, that is where the opening of the bag will be.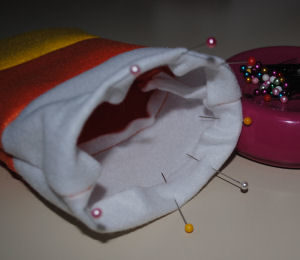 Fold 1/2″ of the top white towards the inside. Stitch close to the raw edge all the way around the top. This hems the top and forms a casing at the same time.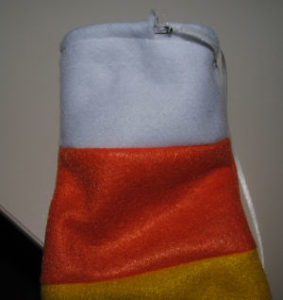 In the fold of the white top cut a little slit. Make sure you do not cut into your stitching.
Using a little safety pin, place ribbon on the end of it and push the safety pin around the circle and back out the same opening.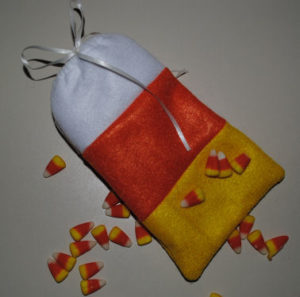 Tie the ribbon into a bow to close the bag.
Your mini felt candy corn bag is done and ready to be filled with Halloween treats!
Congratulations! You now have a brilliant bag for Trick-or-Treating!