Zipper Mouth Frankenstein Pillow – Free Halloween Craft Sewing Tutorial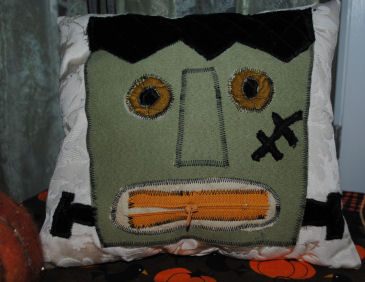 What I love about making Frankenstein crafts is because of his reputation of being sewn together as a monster in the books and movies, he is so forgiving when it comes to sewing mistakes. So when creating a Frankenstein craft, you can zig-zag, skip stitches, sew crooked and no one will know the better! The more imperfections on the Frankenstein craft the better! This zipper-mouth Frank pillow was made from upholstery fabrics, yarn for the scar, and a zipper.
You Will Need:
About 1/3 of yard of cream fabric for pillow front and back

Zippers

Scraps of Halloween fabrics for Frank's face parts

Black yarn

Craft stuffing or fiberfill

Basic sewing supplies
Let's Make Frank!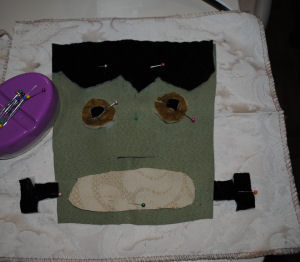 This Frankenstein craft can be made using cotton fabrics. I used upholstery fabric sample squares that a local shop gave to me for free. They throw the fabric samples away, so the next time you pass a shop, stop and ask if you can have their outdated samples.
This project is more of an art work project. You are the artist. Cut two squares from tan fabric for the base front and back of the pillow. Then using fabric scraps cut and pin 2 eyes, nose, mouth, hair, and bolts.
Using a zig-zag stitch, sew around each face piece to the pretty side of one of the beige pillow pieces. Set aside the other beige piece as that will be the back of the pillow.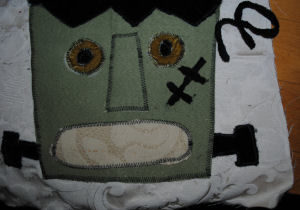 To make the scar, I used thick black yarn, cut the yarn to look like a scar, and then zig-zagged over top of the yarn.
Pin and sew the zipper in place. I did NOT use a zipper foot because I used a zig-zag stitch to attach the zipper on the mouth.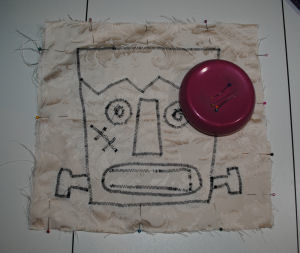 Place the pillow front and back tan pieces PRETTY sides together and pin around the raw edges. Leave a 4″ opening on one side. That will be the opening for turning the pillow and stuffing the pillow.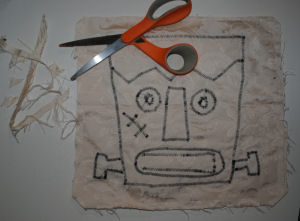 Sew around the outer edges through both layers of the pillow using the pressure foot as your guide.
Don't forget to leave your 4″ opening.
Trim seams and clip corners.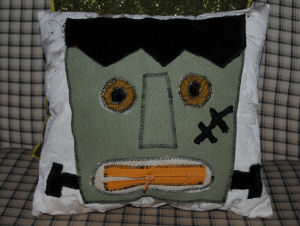 Turn pillow pretty side out and gently poke out the corners. Stuff the pillow and hand sew the opening closed.
Congratulations! You have just made a creepy cute pillow that will be a great accent during the witching hours! Happy Haunting!