Being a lover of all kinds of traditional pizza (my favorite being New York-style pizza), I was hesitant to try this garden veggie pizza. I was shocked how much I really enjoyed this homemade version of 3-cheese garden veggie pizza and wanted to share! You can adjust the recipe and use your favorite veggies on your own pizza.
RECIPE FROM THE KITCHEN @ Love to Sew Studio, because people who sew, also love to bake and cook.: Judi Montgomery Harris
INGREDIENTS:
1 tbsp olive oil

corn meal for dusting

1 pkg (13.8 oz.) store bought refrigerated pizza dough

3 garlic cloves, pressed

4 oz. grated cheddar cheese

4 oz. grated mozzarella cheese

1 oz. grated parmesan cheese

1 tsp Italian seasoning

1 cup chopped red pepper

1 cup chopped zucchini

1 medium onion chopped

2 plum tomatoes chopped

1 cup sliced mushrooms

salt and pepper to taste
DIRECTIONS: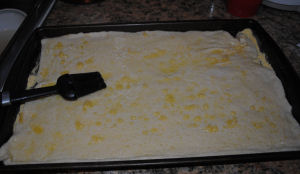 Sprinkle cornmeal over a cookie sheet for a light dusting. Unroll dough onto bottom of pan and gently stretch pressing down to cover bottom of pan. Place the olive oil and pressed garlic into a bowl and stir. With a pastry or basting brush spread the mixture over top of the pizza crust. Bake for 7 minutes in a 400 degree oven. (This is one of my family's all time favorites!!! When you put the garlic and olive oil on the crust and place it in the oven, your home smells just like a pizza shop!)
While the crust is baking, mix all the cheeses and Italian seasoning together in a bowl.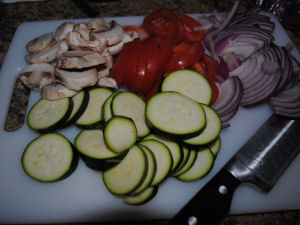 Then cut up all your vegetables! Remove pan from oven and sprinkle half of the cheese mixture evenly over the pizza crust. Then add your vegetables. Last sprinkle with remaining cheese mixture. Salt and pepper to taste. Bake for 15-18 minutes or until crust is golden brown. Remove from oven and let sit for three minutes. Cut into squares and enjoy!